Education & Bass Taster Day with Pirate Studios
Posted by

Categories

Blog

Date

22nd March 2018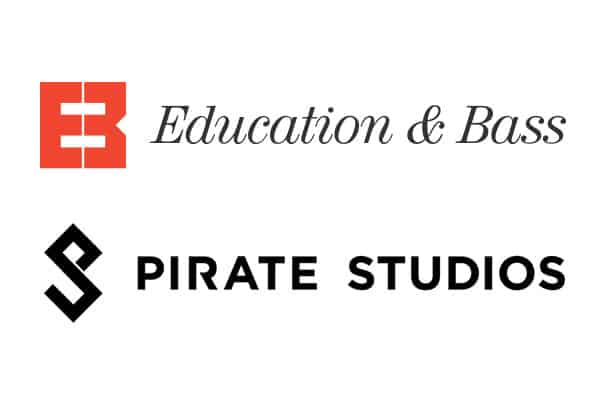 New partnership with Pirate Studios – E&B taster day, 3 month course and afterparty event
When: Saturday 31st March 2018
Where: Pirate Studios, 100 Lincoln St, Bristol BS5 0BJ, 1:00pm-5:00pm
We take pride in the knowledge that we can offer training, advice and guidance based on over 60 years of professional experience in the music industry collectively alongside academics who have taught in further and higher education, teaching all aspects of music production and culture, and its applications in 'real world' situations.  Each of our lecturers and guest speakers is very active in the music industry as artists, DJs, promoters and label owners.
We believe in order to get the most out of an Education & Bass programme that there should be opportunities for each learner to be able to apply the techniques, tricks and guidance delivered to them straight away within their music production and writing.
Taster Day:
The Taster Day will present music production techniques and guidance in the following genres – drum and bass, jungle, dubstep, grime, techno and electro, led by academics, industry specialists, and Innovators in their fields including Digital and Nomine.
The day will consist of a series of workshops, talks and demonstrations to present what Education & Bass and Pirate Studios can offer prospective learners on the 3 month Music Production Fundamentals course.
Learners will be introduced to two integral aspects of electronic music production – the concept of The Boiling Pot and Workflow.
Learners will have the opportunity to speak to Education & Bass tutors about all aspects of electronic music, course content and materials, and discover interesting and new techniques for music production and recording.
Three Month Music Production Course in Bristol @ Pirate Studios (more info on enrolment at the taster day):
Each learner will receive 9 hours contact time face-to-face with E&B tutors spread over three half-day sessions, one session per month.
Each session will consist of learning objectives and outcomes delivered via practical guided workshops, lectures and listening sessions.
Learners will be given learning objectives set as course work to be undertaken as self-guided learning via the Education & Bass website.  Each month 10 hours of specific content relating to the learning objectives and outcomes set will be provided for the learners, in order to build on their learning from the sessions.  Learners will be able to access an online guidance session delivered by E&B tutors, once a month, to support the learning objectives and outcomes.
End of course live event:
There will be a live event at the end of the course on June 30th @ The Black Swan in Bristol with an Allstar lineup across a variety of genres. You too could take part as a DJ/performer!
Why choose Education & Bass?
Learners can engage with tutors face-to-face during event days but also access a wide and expansive range of online learning, giving each learner the opportunity to work at their own pace.  While enrolled on a course additional online guidance is provided in the form of group web chats or, at additional cost, one-to-one mentoring specific to each learner.
With the live events, learners get to experience hearing their music played out on a sound system either as a performer themselves or by a guest DJ.
Successful candidates enrolled on all courses have the opportunity to further their career development with the Education & Bass record label as artists or industry specialists.
Each course provides the learner with learning objectives and outcomes to provide a fully immersive learning experience, allowing each learner to develop into a confident, knowledgeable electronic musician or producer.
Coupled with evening live events we celebrate multi-genre sound system culture as a fully immersive experience of both Education & Bass.