If you write and produce electronic music – regardless of genre – then Education & Bass' Music Production Fundamentals is for you.
In partnership with Pirate Studios, Education & Bass are pleased to offer a 3 Month Music Production Fundamentals course.
From inception, construction through to completion, learn tips and tricks from Industry specialists to take your music to the next level.
Sign up now
3 DAYS OVER 3 MONTHS AT PIRATE STUDIOS, 100 LINCOLN ST, BRISTOL BS5 0BJ
The Education & Bass Music Fundamentals course is a fully immersive learning experience, allowing you to develop into a confident, knowledgeable electronic musician or producer.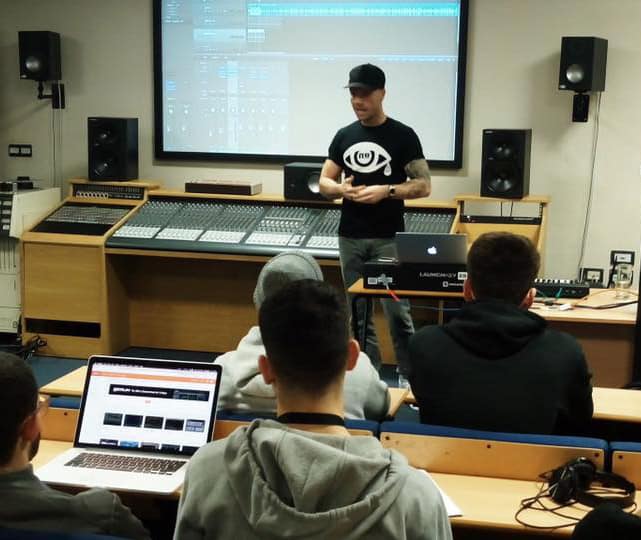 What is Education & Bass?
Education & Bass delivers electronic music education and production both online and face-to-face.
Workshops, seminars, guest lecturers, Q&A and no rules electronic music are the foundation of this unique concept, all delivered by active respected international industry specialists and college/university lecturers.
As a no rules concept, comprising of all genres of electronic music, Education & Bass thrives on sharing production techniques, advice and guidance on industry practices and performance, contextualizing music history and culture, and building a community of like-minded individuals as a forum for discussion on all aspects of music.
Instructors include Nomine (Tempa, Nomine Sound), Digital (Function, Metalheadz), Nurve/Macabre Unit (Nomine Sound, M.U.D.), Cocktail Party Effect (R&S, Fox & Hounds), Occult (M.U.D., Faded Tapes) and X=X (Nomine Sound, INVTR).
About the course
Over a three month period you will guided through all aspects of the fundamentals of electronic music production via a mix of face-to-face and online teaching:
9 hours contact time face-to-face with E&B tutors spread over three half-day sessions, one session per month. Each session will consist of learning objectives and outcomes delivered via practical guided workshops, lectures and listening sessions.
Learning objectives are set as course work to be undertaken as self-guided learning via the E&B website. Each month 10 hours of specific content relating to the learning objectives and outcomes set will be provided for you, in order to build on your learning from the day sessions.
You will also be able to access an online guidance session delivered by E&B tutors, once a month, to support the learning objectives and outcomes.
Cost per learner – £300.00
Course Bundle
Alongside 9 hours contact time plus 30 hours online teaching, you will have access to two production sessions a month at Pirate Studios during the duration of the course.
On completion of the course, you will receive an additional 3 months access to the Education & Bass website containing over 200 additional tutorial videos.
Successful music demos from course submissions will be considered for release by the Education & Bass record label.
Included in the bundle is a ticket for "Innovators". In conjunction with Halcyon Hi Fi and Static Hi Fi, Education & Bass present "Innovators" – a six hour club event featuring DJ and live performances by innovators from underground dance music culture covering genres such as drum and bass, dubstep, grime, techno and electro.
What You'll Learn
Month 1
Day 1 – April 28th, Pirate Studios, Bristol – 1pm-4pm
Aesthetics of Electronic Music and Genre Analysis (Lecture and Symposium)
Art of the Remix: Re "mix", VIPs and Mash Ups (Lecture)
Workshop: Building A Track (The Foundations/The Boiling Pot/Workflow)
Tutor-led demonstration on the concepts of writing a track
Getting down ideas in 8 or 16 bars (The Boiling Pot)
Flex Audio and Audio Editing
Music Theory and Musicality (working in key/tones and semitones/scales/rhythm)

Workflow (defining characteristics/construction/groove/mood/light and shade)
Group Breakout: Building A Track (The Foundations/The Boiling Pot/Workflow)
Groups are supported by tutors in one-to-one group activity
Based on the workshops you will have attended you will be asked to complete a remix task. Guided by tutorials online you will be taken through the process of creating a remix to be assessed during Day 2.
Month 2
Day 2 – May 26th, Pirate Studios, Bristol – 1pm-4pm
Overview of the Music Industry  (Lecture)
Getting Your House In Order: The Aesthetics of Arrangement
Tutor-led demonstration and talk on types of arrangements, the impact and purpose of the arrangement
Fusing genres and finding your signature sound
Workshop: Sound Design
Tutor-led demonstration on using synthesizers and samplers for sound design
Listening Session
Learners to play their compositions for feedback from tutors and the group
For Month 2 you will asked to start composing ideas based on your previous learning. The following topics will be covered in your online learning – genre analysis, advanced MIDI sequencing and production techniques in order to help contextualise your ideas.
Month 3
Day 3 – May 26th, Pirate Studios, Bristol – 1pm-4pm
Workshop: Bass Weight (Compression, Limiting, and Isolation)
Tutor-led demonstration on production techniques, identifying when and when not to use a compressor or limiter, isolating sounds in the mix
Workshop: The Mix Down
Tutor-led discussion and demonstration of the mix down, aesthetics of the mix – moods and emotions, musicality and experimentation, troubleshooting, finding balance, A/Bing
Listening Session
Learners to play their compositions for feedback from tutors and the group
Evening Event – "Innovators"
By the end of Day 3 you will have good understanding of what makes a track "work".  Utilising all you have learnt the final online guidance will extend your understanding of mixing and mastering, and finalising your tracks for release.
You will also cover sending demos and an introduction to the music business.
On completion of assessment your submission will be considered for the Education & Bass record label.