Our *Ultimate Music Production Course was the finest all inclusive course of its kind. Crafted by industry professionals and music technology lecturers, It has just got bigger and better – now offering Grade 1 to 6 RSL Awards Music Production graded syllabus alongside it. Introducing the E&B and RSL Graded Syllabus – a course that offers unparalleled learning and unlimited opportunity for progression into music.
On completion of a Rockschool Music Production grade, every candidate will own a wealth of technical, practical and theoretical knowledge that they can apply to real-world scenarios – whether it's in audio production, electronic music production, mixing, editing, mastering or sound for media.
Join our EBRSL Graded Syllabus
Sign up now in a couple of clicks for our January 2023 cohort (Limited Spaces)
RSL exam fee included within the price which would additionally cost between £50-£70
* Important: please note that one third of this course (30 hrs of 90 hrs) is from the Ultimate Music Production Course, which some of you may have already taken. We have now partnered with RSL to make it bigger and better with accreditation and deeper learning. If you have any queries or have already completed/currently on the Ultimate Music Production Course and would like to upgrade to the E&B and RSL Graded Syllabus, please email us on [email protected].
A full learning programme that covers:
No entry level requirements – helping you work towards higher education
Internationally recognised qualification
90 hrs of guided learning with linear progression with a flexible approach to learning
Academic Grounding: built with academic grounding and industry relevance in mind
The same grading, more teaching and learning you'd receive from expensive 1-2-1 tuition
Exam booked in by us once you have chosen a date and time from the exam window that we provide you with.
Periodic online drop ins to check learner progression
Software Agnostic: suitable for all music production software
End of program 1-1 with an Education & Bass instructor to check coursework, and to determine which exam you should be entered for.
Internationally recognised qualification
Includes VIP Membership (worth £149.99) with VIP benefits.

The Ultimate Music Production Course combined with the RSL Music Production Syllabus provides

Beginner to advanced level learning
This course has seen hundreds of students move from beginner level to educated producers in less than a year.
From desktop to dancefloor
Beginning with the grass roots of music production and the fundamentals of music, we have helped students turn into rounded, industry qualified musicians.
Led by experience
We not only teach production, but help with practical skills and how to apply them. Our students are given advice from industry experts on how to get their foot in the door and progress in their respective journeys to success.

Fully accredited
A vital part of this course is the qualification from RSL Awards.
Depending on progressions of learning and formative assessment results collected over the duration of the course, you will be entered into one graded exam between 1 and 6.
Industry leaders with over 25 years experience in music education, we are proud to partner with RSL Awards and build the next generation of music producers. Technical, theoretical and practical units will ensure you are prepared for your examination which will mark the first step in your music production journey.
For more info on RSL awards, look
here
.
A flexible way to master music production
The course is built with the aim of providing a flexible, progressive mastery approach to the knowledge, skills and understanding you require for music production. By building this qualification into the course, students are offered motivation and incentive to continue their course through to the end.
With a regular stream of easy to understand, broken down educational content, we enable candidates to develop and enhance their skills at their own pace and work towards their achievements in their own time.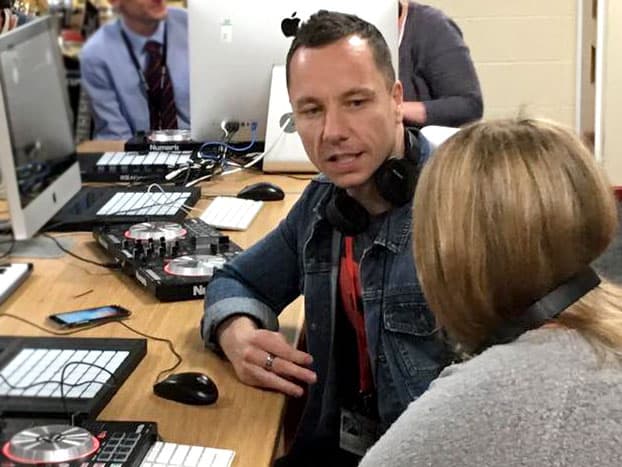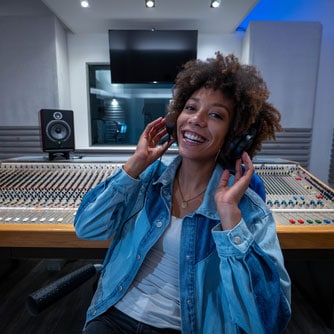 Exclusive opportunity
By collaborating with RSL Awards, we are the only online platform through which you can receive this industry recognised qualification. Coursework and examinations are conducted through digital means only, making the course the perfect choice for somebody looking to retrain in their spare time and move towards the music industry.
You will receive all of the skills you need during the course to make sure you are prepared for the final exam and ensure you leave with the qualification your hard work has earned. Your course content will cover all corners of the industry and is built to be applied on any DAW and within any genre.
This is about learning your craft and offering all the tools you need to apply it to your chosen platform.
Grade 1
At Grade 1 the theory content covered will include subject areas such as identifying studio hardware, physical audio formats, analogue connectivity, computer & digital technology, DAW basics, microphones, MIDI basics, basic audio technology and the fundamentals of mono & stereo sound.
Grade 2
At Grade 2 the theory content covered will include subject areas such as identifying studio hardware, digital file formats, digital connectivity, software components, DAW concepts & capabilities, microphones, non-linear editing concepts, EQ controls and hearing physiology.
Grade 3
At Grade 3 the theory content covered will include subject areas such as interpreting the functions of studio hardware, digital protocols, analogue connectivity, computer memory & storage, microphones, using loops, the MIDI protocol, dynamic processing and frequency.
Grade 4
At Grade 4 the theory content covered will include subject areas such as describing equipment controls, surround formats, wireless connectivity, backing up files, plugin concepts, stereo microphone techniques, non-linear editing, software instruments, side-chaining and sound propagation.
Grade 5
At Grade 5 the theory content covered will include subject areas such as signal routing, the Compact Disc format, patch bays, networking, file sharing, ambient microphone technique, multitrack recording, MIDI controllers, PCM theory and constructive interference.
Grade 6
At Grade 6 the theory content covered will include subject areas such as creative uses for studio hardware, lossy audio formats, balanced audio, cloud storage, plugins, multi microphone technique, automation, basic software synthesis, dynamic range and sound isolation.
You can expect to learn about all of the following and much more:
Audio & MIDI Sequencing  |  Music Theory  |  Listening Skills  |  Genre Analysis & Production Techniques  |  FX  |  Sound Design  |  Synthesis  |  History of Electronic Music  |  Mixing & Mastering  |  Arrangements  |  Creative Kick Starts  |  Combating Writer's Block  |  Sending Demos  |  Music Business  |  DJ Skills  |  Tech In Performance  |  Studio Skills  |  Sound Formats  |  Music Production Terminology
Sign up for our January 2023 cohort (Limited Spaces)

For more info and enquires please email: [email protected]
Need to know more?
Check out our FAQs below, or email us with your question.
Q: What level of education are the grades 1-8 an equivalent of in further and higher education?
A: RSL grades 1-8 are level 1-3 equivalent in Further Education. We are delivering up to a level 2 , but have plans to deliver grades 7 and 8 real soon, followed by diploma levels 4 and 6. However, the actual E&B side of the course (Ultimate Music Production Course) delivers from beginner to industry pro so in combination, a wealth of new knowledge for all levels. Below are the qualification titles and levels:
Level 1 Award in Music Production: Grade 1
Level 1 Award in Music Production: Grade 2
Level 1 Award in Music Production: Grade 3
Level 2 Certificate in Music Production: Grade 4
Level 2 Certificate in Music Production: Grade 5
Level 3 Certificate in Music Production: Grade 6
Level 3 Certificate in Music Production: Grade 7
Level 3 Certificate in Music Production: Grade 8
Q: What software and equipment will I need?
A: The course has been designed to be software agnostic, meaning any music DAW (Digital Audio Workstation) such as Logic, Ableton, Reason, Reaper, Pro Tool, FL, Bitwig and Cubase can all be used. As a student on this program, we provide free access to the Kilohearts Ultimate Bundle that includes a powerful synth and all of the creative effects and utility tools that you will need for 1 year. Headphones, a MIDI controller keyboard and an audio interface are also recommended, we will send info on very special discounts with some of our partners that can help with this, but it can be done on a small budget.
Q: I have already taken the 30-week Ultimate Music Production Course, can I top up on this program?
Q: Is this an online course?
A: Yes, each week over 42 weeks new lessons for that week will be published that you will be able to access from your profile. After 42 weeks there are 10 weeks to prepare for exams and course work. There will also be regular opportunities to be a part of live masterclasses and feedback sessions throughout the duration of the program.
Q: When can I use the rest of the site as a VIP member?
A: Immediately after you enrol, you will be able to access all of the regular site content and VIP benefits for one year.
Q: How much time will I need to dedicate on this each week?
A: We recommend dedicating a minimum of 5 hrs per week to the course, which will include guided learning and practice time to help embed the new knowledge