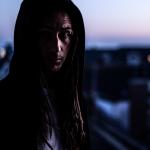 Leon Switch
With a career spanning 22 years and a backlog of releases, Leon has been busy to say the least. Stemming from a musical background, Leon specialised in lead guitar as his first instrument and spent most of his teenage years in various bands performing anything from Heavy metal to 60's-70's Rock'n'Roll.
He first started programming music in 1992 and then bought his first studio setup in 1998, soon to follow was his debut release in 2001 on Unkut Recordings. 2002 saw the birth of Defcom Records along with the partnership of Kryptic Minds, and a massive passion for deep dark Drum and Bass.
With releases on imprints such as MetalHeadz, Frequency, Freak, Monitor and Penetration to name just a few, he had recorded and remixed for some of the scenes true pioneers and then 2007 was to see his debut Album 'Lost all Faith'. 2008/9 and a change of tempo and name, pushed him into the limelight. Now writing under the Kryptic Minds moniker, the 'One of us' album was released on Swamp81 and the international touring started. Reaching places as far as New Zealand, Australia and Hong Kong and then out to places such as Moscow, Siberia, Ukraine, but not forgetting nearly all of Europe in his home times…
The releases continued on imprints such as Tectonic and Osiris Music Uk and then Black Box released the 'Cant Sleep' Album in 2011. 2013 and Hollywoods motion picture 'Elysium' features his track 'Six Degrees' at a pinacle moment in the film and then The 'Namaste EP' got released and saw the long awaited 'Badman VIP' hit the shelves. 2014 saw Leon branch out on his own again and immediately sign to the legendary Distance's imprint Chestplate, with his debut tracks Deadlock and Persepolisia, alongside his long awaited 'Leon Switch Presents Deep, Dark Dubstep' sample pack for Loopmasters. 2016 and his second release on Chestplate – Intrepid backed with Overlook, and then he released his 'Leon Switch Sample Series Vol 1', with accompanying tutorial series videos. 2017 'Leon Switch – Construction Kits' is released, and then Leon's album 'War Trax' which was written and produced as the soundtrack for R8Games ltd. Fusion Formula, the AG racing game of 2017.
Leon has several collaborations on the go with many artists and companies, including: Italian composer, arranger , producer and guitarist Eraldo Bernocchi, in an album project called Rotor. Endorsed by More Superior Wear Clothing company and working alongside Subpac.