Do you want to produce Drum & Bass but are not sure where to start?
Have you been producing other genres but would now like to produce Drum & Bass?
Or have you been producing for quite some time and would now like to take your music production to an intermediate level?
If so, this four month Group Mentoring Program is for you!
Only 5 spaces!
PAYMENT PLANS AVAILABLE
Enrolment is now open for a limited time.
Program starting May 2023
Important info: The first mentoring masterclass is pre recorded and will be made available on a weekday [Date TBA]. The following live sessions will be bi-weekly from that date at @ 7PM UK time. If you are not able to make the live sessions each masterclass will be recorded and uploaded the following day for you to view via the Education & Bass website on your personal profile. Each learner will have access to this content for the duration of their annual membership.
If you have any questions before committing please contact: [email protected]
A four month learning programme that includes:
30 minute group consultation call
Bespoke resources to support your learning that includes: dedicated video lessons, and relevant signposted content
Lifetime access to the Ultimate Music Production Course worth £199.99
8 x 90 min (12 hours) *live Masterclasses delivered by active Drum & Bass specialists, experienced Education & Bass tutors and special guests
Access to our Discord server where you can network with you peers and Mentors for additional support
* Recordings of the live Masterclasses will be archived and made available if you cannot make the live sessions or if you want to watch again at any time. The first of the 8 mentoring sessions which is the History of Drum & Bass will be a pre recorded session that will be uploaded to the Education & Bass websites dedicated Virtual Learning Environment.
Module 1
The History of Jungle/Drum & Bass
Drum & Bass has seen much evolution over the years, it is a melting pot of genres and styles. In this module we will be looking at the history of Jungle, Drum & Bass and all associated sub genres. A Drum & Bass timeline will be presented in a live lecture that will also highlight key points for learning; techniques and fundamentals that are still used to this day, which we will be delving into throughout the program. This first session will be pre-recorded and will be uploaded to the Education & Bass websites Virtual Learning Environment.
Module 2
The key aesthetics of Jungle/Drum & Bass
E&B Drum & Bass specialists will practically demonstrate key aesthetics of a variety of Drum & Bass sub-genres such as: Liquid, Rollers, Neurofunk and Jungle. Pre-made loop packs and samples, MIDI files, patches, presets and more will be provided for you to experiment with and to get familiar with the vast array of Drum & Bass ingredients and flavours.
Module 3
The different types of Drums
Drum Racks, audio loops and midi files of drums will be created for you, broken down and presented in a live online Masterclass. The instructors will cover the different time signatures alongside the sequencing of drums in both midi and audio. Drums are one of the most important, but fun aspects of creating Drum & Bass. The Instructors will provide the learners with the drum racks, audio loops and midi files.
Module 4
The different types of Bass
For this module, the Instructor(s) will create various classic, and popular basses in a live Masterclass. These basses will be created with Ableton stock synths and the Ableton stock sampler, and they will be reverse engineered during the session giving a clear understanding of how they were made. The Instructors will provide synth patches, one-shots and midi files for you to use in your own Drum & Bass Productions.
Module 5
Arrangement, Track Intro, Transitions and Breakdowns
An arrangement can make or break a song! In this interactive session we will analyse effective Drum & Bass arrangements and the philosophy behind them. We will discuss the importance of transitions, building up tension, DJ friendly intros, second drops and more.
Module 6
Mixing – The Basics
This module will be focused around the basics of mixing. We will be looking at Volume faders, balance, EQ and parallel processing. The mix of a track can make or break it and when you have as many elements as a Drum & Bass track has, it is crucial that you gain a good understanding as to how you can go about gaining control of your song elements to create a cohesive mix.
Module 7
Musicality
It is not essential to know music theory to be able to produce music, but it can certainly help. If we can allow ourselves to learn the "rules" and break the "rules"; not just in music theory, but with creativity, it can go a very long way. This Module will lay down the basics of music theory that can be built upon, if you wish to do so. We will be looking at scales, modes, chord progressions and more; enough to get you off the starting blocks in an easy to digest way.
Module 8
Sampling
Hip Hop, Jungle, Drum & Bass and many more genres/sub-genres would not exist without sampling culture: borrowing snippets of pre-existing music, twisting them up and collating them to create a collage of new sound. Sampling can also consist of sampling and re-sampling where we take parts of our own sound design/tracks and further process to create new sounds. This module will delve into the legalities and practice of sampling culture.
Mentors for the program have more than 60 years of combined experience in the Drum & Bass world and work with some of the biggest labels in the game such as: Metalheadz, Function, Reinforced, Commercial Suicide, Backlash, Eleven One One Music, Root 97 and more.
Your lead mentors will be Outrage aka Nomine, False Relation and Nurve.
We understand the power of mentoring alongside peer to peer support
First things first
Each learner will be asked to attend a 30 minute group consultation to assess what level the learner is at, to meet the rest of the group and to ask any questions. This will ensure that we can give you the best possible experience. The consultation will take place around the start date of the program. 
Additional support
Each mentee will be invited to the Education & Bass Discord server for peer to peer support alongside support from E&B instructors. We learn so much more when we communicate
A fast track way to master music production
The group mentoring program is built with the aim of providing a flexible, progressive mastery approach to the knowledge, skills and understanding you require for music production. 
With a carefully planned program of easy to understand, broken down educational online sessions, and additional sign posted video content, we enable candidates to develop and enhance their skills and work towards their achievements.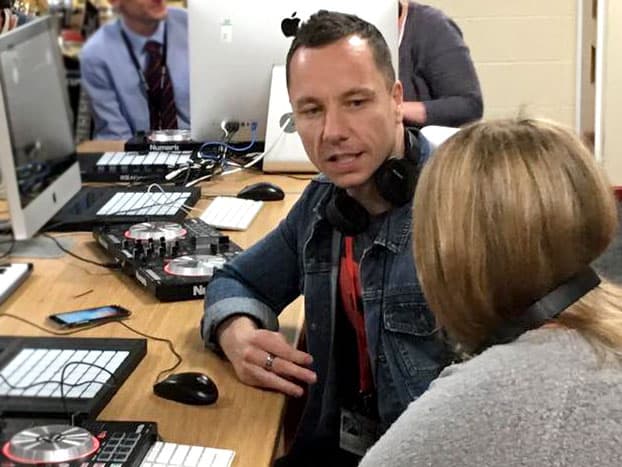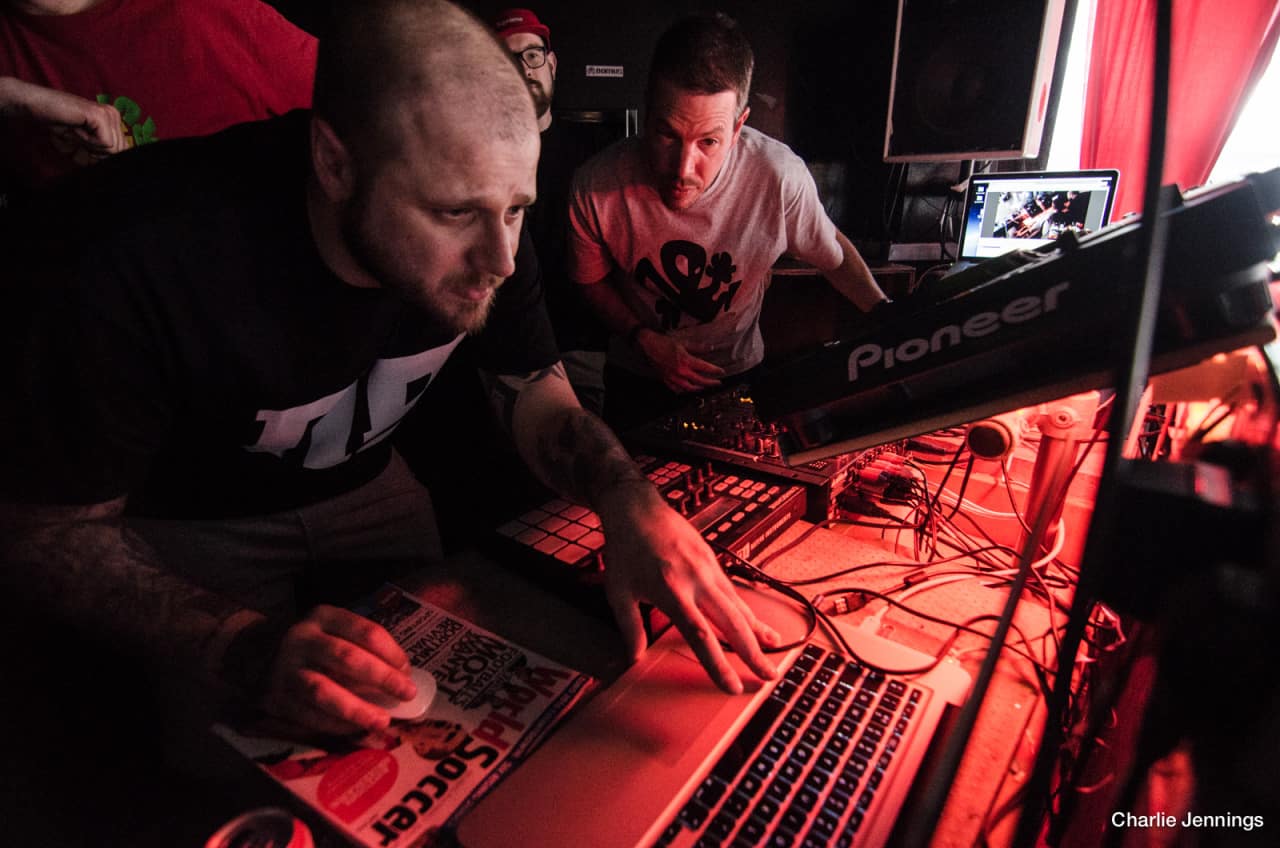 A creative hub for success
You will be part of a small group of learners who will be studying the same topic at the same time as you, allowing the door to open for collaborations and support from your peers – not to mention being part of the much, much wider E&B community.
Lifetime access to the UMPC included
In addition to the 4 month group mentoring program, when signing up you get lifetime access to the Ultimate Music Production Course (UMPC). This course consists of 35 hours of music production content designed for the absolute beginner to the accomplished producer. We leave no stone unturned and this program is perfect if you want to learn about music production holistically.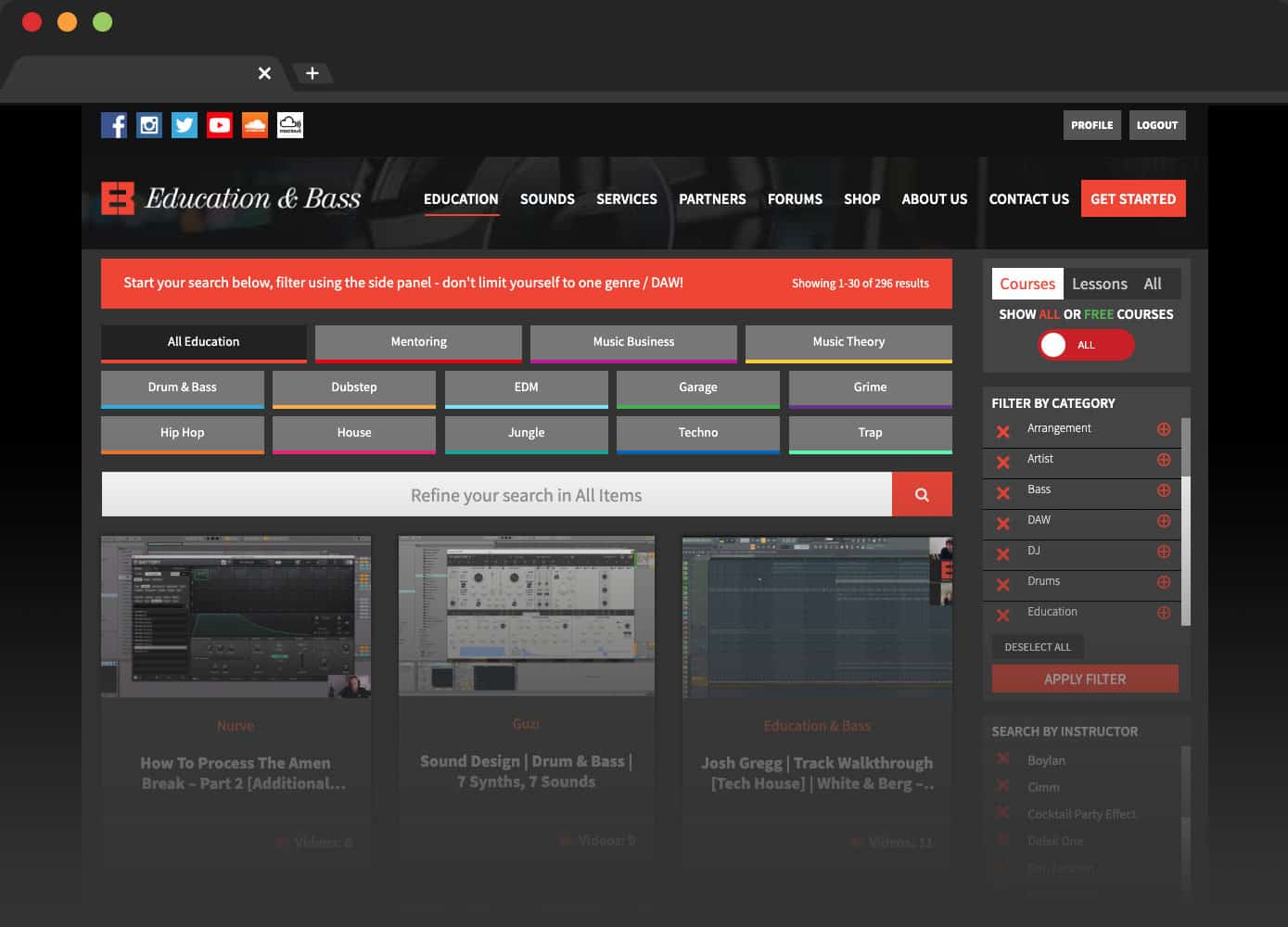 Sign up now and start your path to success
We know the world is a busy place, but by signing up to this four month program we can make that dream of learning a new skill a reality.
This group mentoring program is the fastest way to getting you ready for the world of music!
Please whitelist the following email to ensure that your membership confirmation email doesn't go to your spam / junk folder: [email protected]. A member of our team will be in contact via email to book in your initial 30 minute group consultation. Please whitelist this email address too as this is where you will be receiving your communication for this mentoring program: [email protected]
We look forward to having you onboard and, most importantly, enjoy learning!
Need to know more?
Check out our FAQs below, or email us with your question.
Q: What software and equipment will I need?
A: You will need to have access to a DAW (Ableton, Logic, FL studio, Reason, Bitwig, Cubase or any other DAW). We recommend you have a midi controller and monitors or headphones for playback. If you choose to have active monitors you will need a sound card to power them.
Q: Is this an online program?
A: Yes, this this is an online program where live mentoring sessions are delivered via Zoom. The live sessions will also be recorded and added to the Education & Bass VLE (virtual learning environment)
Q: Where can I find the UMPC course?
A: The UMPC will be located in your user profile which is located in the top right hand corner of the webpage.
Q: How much time will I need to dedicate on this each week?
A: We recommend dedicating a minimum of 3 hrs per week. 1 hour to watch the module and 2 hours to digest and put what you have learnt into action. You get back what you put in with music production.
Q: How music music production knowledge do I need to take this program??
A: We recommend that you have the understanding of a DAW, and at least 1 year of practical music making experience.